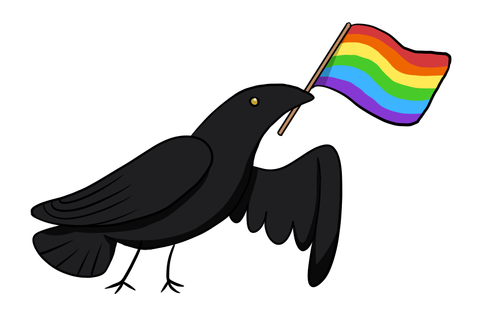 birds of a feather flock together
pride corvids is a series by nonbinary lesbian artist raven byrne (draweththeraven), which combines their love for corvidae with their involvement in the lgbtqa+ community. the series began in june 2018 when the first batch was uploaded to redbubble and tumblr, and has since expanded to include more flags and products, as well as unique illustrations.

if you would like to request a flag, please message me on social media!
the original series
the first few batches of pride corvids, mostly from 2018. the below PNGs are free for personal use, such as profile pictures, as long as you credit the artist (draweththeraven) and don't repost.

this range is available on stickers, socks, pins, backpacks, face masks, and magnets on redbubble.
corvs available only as free to use PNGs*:
*the lipstick lesbian flag has been set to private on redbubble due to its creator being associated with racism and TERFs, which i will not stand for.
late additions
the 'late additions' to the pride corvid range include any flags that were made after i completed the merch designs for the original series, and are also free for personal use.

they're available as stickers, magnets, and pins on redbubble.
the BLM collection
made just in time for pride month and the carrd launch, the BLM collection is exactly what it sounds like. i originally only made the philly pride flag during development for the original series and never made merch of it as i do not want to profit off Black struggle. but in 2021, somebody requested the BLM lesbian flag and i decided to make a whole bunch!

all images are free to use for personal use, and merch is available here. all of my earnings from these designs will be redirected to organisations that support BIPOC.
redbubble
buying from my redbubble is the best way to rep your flock while supporting the artist! it includes a variety of merch types for the original, late addition, and unique designs.
straight from the raven's beak
there are also a couple of pride corvid products exclusive to my webstore: